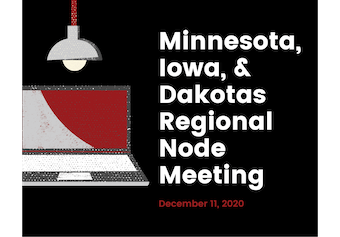 February 24, 2021August 19, 2021
The GEP's Minnesota, Iowa, and Dakotas Regional Node held a virtual Regional Node Meeting on December 11th, 2020.
The meeting was organized by Andy Arsham (Node Leader) and Paula Croonquist. The 55 attendees included 13 faculty, 1 postdoc, 51 undergraduates, and 1 administrator from 4 community colleges and 2 four-year institutions (St. Paul College, North Hennepin Community College, Anoka-Ramsey Community College, Minneapolis College, Wartburg College, and Bemidji State University).
The virtual poster session at the Regional Node Meeting included:
Undergraduates presenting their bioinformatics research projects analyzing evolutionary conservation of growth factor signaling pathways in Drosophila species separated by about 40 million years of evolution
Capstone classroom research presentations from BSU's Gene Expression class investigating the role of repetitive DNA in triggering gene silencing by heterochromatin
Introduction and lightning talks by Dr. Laura Reed, GEP Program Director and Pathways Project Leader, and Dr. Nathan Mortimer, GEP Wasp Venom Project Leader
Q&A and information for prospective faculty