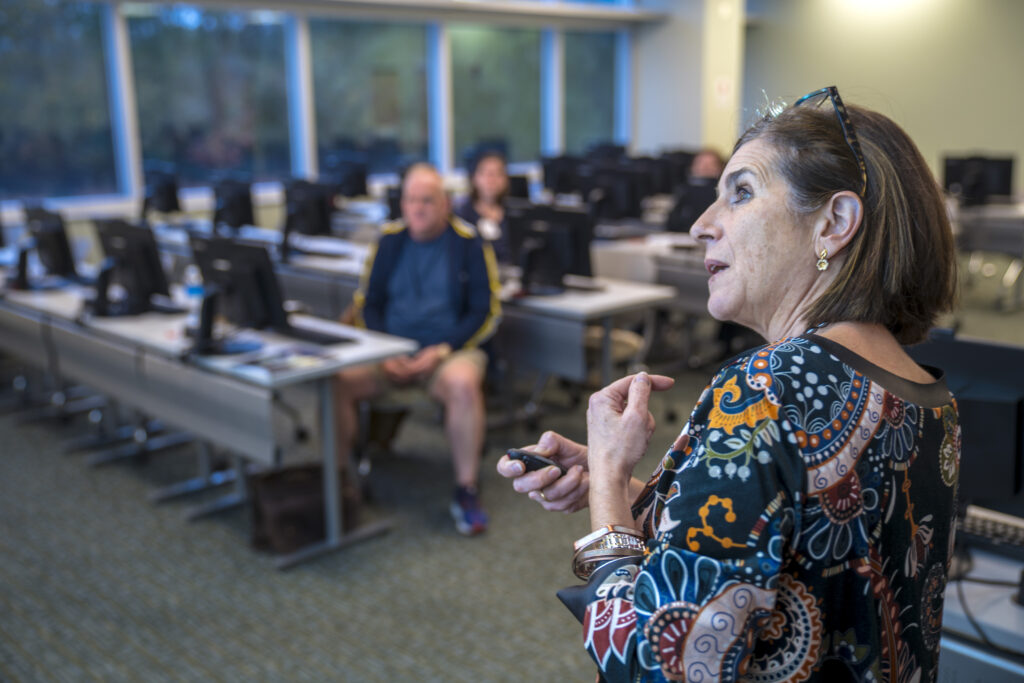 Leadership within GEP is distributed across five specialized Committees—Assessment, Curriculum, Diversity, Equity, & Inclusion (DEI), Professional Development, and Science & IT—each of which addresses specific priorities and are overseen by the Steering Committee.
Laura Reed, Ph.D. is an Associate Professor of Biology at The University of Alabama. Research in the Reed Lab focuses on understanding how evolutionary, genetic, and environmental factors interact to shape complex metabolic traits, including diseases like obesity and type-2 diabetes. Laura took over as the GEP's Program Director in 2017. Within the GEP, Laura is also the Project Leader of the Pathways Project, Chair of the Steering Committee, oversees the Virtual TAs, the Staff, and all financial aspects of the partnership.
Amy Hark, Ph.D. is a Professor of Biology and Co-Director of the Biochemistry Program at Muhlenberg College in Allentown, PA. She teaches undergraduate courses in the areas of molecular biology and biochemistry. Her scientific interests focus on how packaging of DNA into chromatin and organization of genes within genomes affect gene expression in eukaryotic organisms.
John Stanga, Ph.D. is an Assistant Professor of
Biology at Mercer University
in Macon, GA where he teaches Genetics, Molecular Genetics, Introduction to Biology, and Plant Biology. His scholarship includes investigating how plants sense and respond to the environment and biology education research.
Zeynep Ozsoy, PhD is an Associate Professor of Biology at Colorado Mesa University in Grand Junction, Colorado. She teaches Genetics, Introductory Biology for majors and non-majors, Cellular Biology and Laboratory Investigations in Molecular and Cellular Biology. Her research interest shifted from helicases and their functions in DNA repair and recombination to molecular studies of biological control agents such as tamarisk beetles, Canada Thistle rust and yellow star thistle weevils.
Amie is in the Division of Science and Mathematics at Bennington College in Vermont, where she teaches a wide range of molecular/cellular/genetics courses of all levels. Her research interests center around protein (mis)folding and quality control, primarily focusing on the roles of molecular chaperones and the ubiquitin-proteasome system. Since joining the GEP in 2015, she has developed an introductory bioinformatics course titled "Genome Jumpstart," has served as a past co-leader of the New England Node, and is excited to join the Curriculum Committee leadership rotation.
Vida Mingo, Ph.D. is a senior lecturer of biology at Columbia College. Prior to coming to Columbia College, Dr. Mingo was a middle and high school science teacher in New York City Public Schools. Dr. Mingo is an evolutionary geneticist by training and has a passion for integrating social justice into his biology courses. Dr. Mingo's research involves integrating population genomic and epidemiological data to better understand the evolutionary changes in pathogen and vector populations as mechanisms of antimicrobial drug resistance. This type of genomic surveillance can provide crucial insights to disease control efforts, while also generating data of fundamental scientific interest, such as potential drug, drug resistance and vaccine targets.
Alma Rodriguez Estrada is an associate professor of biology at Aurora University (AU), a Hispanic Serving Institution (HSI) in Illinois. Dr. Rodriguez earned a doctoral degree in plant pathology from the Pennsylvania State University. In the past, Dr. Rodriguez's research focused on fungal genetics, metabolomics, and mushroom cultivation. Currently, she focuses on STEM education, curriculum development, and STEM outreach. Dr. Rodriguez is highly committed to Diversity, Equity, and Inclusion in STEM and has served as Co-PI in NSF-funded grants aiming to increase diversity in the STEM disciplines and to address shortages of underrepresented STEM teachers in Illinois.
Brian Schwartz is a Professor of Biology at Columbus State University in Columbus, Georgia, teaching general biology, genetics, developmental biology, and evolution. He has a B.S. in Biology from the University of Memphis and a Ph.D. in Genetics from the University of Wisconsin.
Mary Ann Smith, MA, MA, MBA is a Lecturer in Biology and Chemistry at
Penn State Schuylkill
. Her background includes Masters in Biochemistry, Theology/Religious Studies, and Business Administration. Her research focuses on the interdisciplinary topics incorporating those content areas. She aims to incorporate
sustainable science
into the Chemistry,
Microbiology
, and Environmental Science courses that she teaches. Her research focuses on alternative antimicrobial development from natural resources. She has also done work on the ethical implications of science and healthcare.
Rivka Glaser, Ph.D is a Professor of Biology and the Director of the Honors Program at Stevenson University, where she primarily teaches Introductory Biology and Genetics courses. She is committed to supporting professional development, especially among graduate students and postdoctoral students who are interested in teaching at PUIs. She serves as her campus's liaison to the Collaborative Teaching Fellowship Program, which provides grad students and postdocs from Johns Hopkins and University of Maryland with mentored teaching experiences at Stevenson and other local colleges and universities. She is also the co-chair of the Undergraduate Genetics Education Network (UGEN), which offers virtual workshops that model innovative and active pedagogies that can be used to teach genetics concepts and/or confront misconceptions about genetics. Each year, the workshop focuses on a socially relevant theme.
Jennifer (Jenni) Kennell received her Ph.D. in Cellular and Molecular Biology from the University of Michigan (Go Blue!) in 2005 and is now an Associate Professor of Biology at Vassar College in Poughkeepsie, NY. She regularly teaches classes related to genetics, including an intermediate level molecular genetics course in which she has incorporated the GEP curriculum and research projects since she joined the GEP in 2014. Her current research focuses on characterizing the role of a family of predicted HAD-domain containing phosphatases in fruit fly metabolism and behavior. During the 2022-23 academic year she served as the NY/NJ Regional Node Leader and she is excited to now serve as a Co-Director of the Regional Nodes.
Daron Barnard, Ph.D., is a Professor of Biology and Director of the Aisiku STEM Center at Worcester State University in Massachusetts. He teaches undergraduate courses that focus on molecular and cellular biology including Genetics, Introduction to Cellular and Molecular Biology, Developmental Biology and Bioinformatics. His research interests focus on mechanisms that regulate mRNA translation and control early development in the African clawed frog, Xenopus laevis.
Tom Giarla is an Associate Professor of
Biology at Siena College
. He earned his Ph.D. in Ecology, Evolution, and Behavior from the University of Minnesota in 2013. His
research
focuses on tropical small mammals like mouse opossums,
rodents
, and
shrews
and aims to reconstruct evolutionary relationships (phylogenetic systematics), describe new species, and investigate the evolutionary forces that generate biodiversity. While earning his B.A. at Washington University in St. Louis, he took Dr. Sally Elgin's
Research Explorations in Genomics
course and was introduced to the GEP. In 2016, Dr. Giarla reconnected with Dr. Elgin and joined the GEP as a faculty member soon after starting at Siena. He incorporates GEP curriculum and CURE projects in his Genomics and Bioinformatics course and in Independent Studies.
Nik Tsotakos, PhD is an Assistant Professor of Biology at Penn State Harrisburg in Middletown, PA. He teaches undergraduate courses in the areas Biochemistry, Genetics, and Bioinformatics. His research laboratory is focused on the role of non-coding RNAs in regulation of gene expression in health and disease.