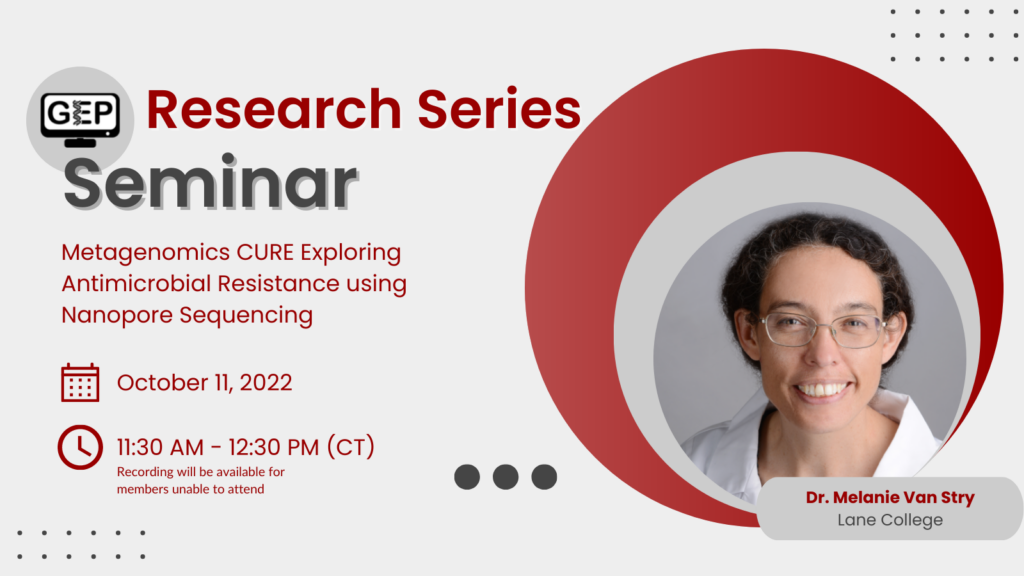 Science Research Seminar Series
October 11 | 11:30a-12:30p (CT)
Title: Metagenomics CURE Exploring Antimicrobial Resistance using Nanopore Sequencing
Abstract: Coming soon!
All GEP members are encouraged to attend and a recording will be available to those with conflicting schedules.
Join the Trello card if you plan to attend
Puerto Rico/Caribbean Regional Node Meeting
November 5, 8:30a-1:30p (AST) | Aguadilla, Puerto Rico
THIS EVENT WAS ORIGINALLY SCHEDULED FOR OCTOBER 1, 2022
Who: Faculty in the Puerto Rico and Caribbean region whose teaching interests include genetics, genomics, molecular biology, developmental biology, or bioinformatics in eukaryotes 
When: November 5, 2022 8:30a–1:30p (lunch will be provided)
Where: Lab-205, DivED, Enrique Laguerre Library, UPR-Aguadilla
Science Research Seminar Series
November 10 | 2:30-3:30p (CT)
THIS EVENT WAS ORIGINALLY SCHEDULED FOR SEPTEMBER 23, 2022
Title: Newly evolved genes play essential roles in Drosophila melanogaster spermatogenesis
Abstract: De novo evolved genes arise from regions of a genome that did not previously encode a protein. Once thought to be rare, such genes have recently been found in diverse species ranging from yeast to humans. In animals, de novo genes are often expressed specifically in the male reproductive system, suggesting that these genes may evolve in response to sexual selection pressures. We used RNA interference and CRISPR/Cas9 genome editing to screen over 40 testis-expressed, putatively de novo evolved genes in Drosophila melanogaster and identified four that are essential for male fertility. Cytological analyses using null alleles and tagged transgenic rescue constructs show that these genes play diverse roles in male reproduction. Molecular evolutionary analyses, including some based on GEP gene annotation protocols, reveal that these essential de novo genes have experienced variable selective pressures since their "births" at the base of the Drosophila genus; one is highly conserved in sequence and structure, while another has evolved rapidly, under positive selection. Currently, we are using evolution-guided functional analysis to identify key sequence features of these de novo evolved proteins and to investigate the timing with which they acquired their essential functions in D. melanogaster. Together, our results show that newly evolved genes can rapidly acquire essential functions in complex, preexisting cellular pathways.
All GEP members are encouraged to attend and a recording will be available to those with conflicting schedules.
Join the Trello card if you plan to attend